THE COMPANY
OUR NATURE
We start from the environment, from respecting it, from protecting it to return to the environment, with new resources, less waste, more future. Nature's own circularity is our vital energy.
That is why we have decided to value waste, supporting businesses in waste separation, to promote the culture of recycling with efficient and integrated solutions, in step with the times.

ALL-ROUND SERVICES
From technical support of environmental management to collection services, transportation and logistics included, from selection and storage to recovery, valorization and disposal: ours is a 360° approach that deals with any kind of waste material produced every day by companies from a variety of sectors, guaranteeing timely action, even within 24 hours since notification.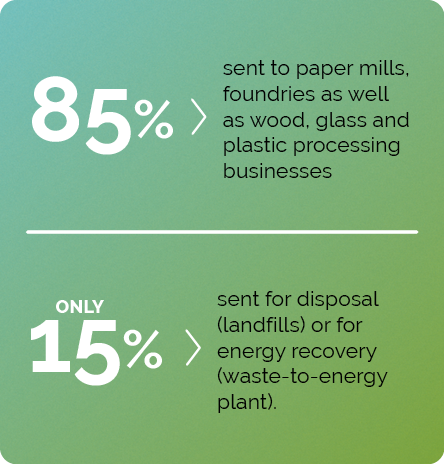 SUSTAINABILITY
OUR FOOTPRINT
Our company has an ecological footprint: everything we do and how we do it revolves around our respect for nature and the environmental policies that protect it.
Every day with our work, we save from felling thousands of trees and every year, through our recovery process, we give new life to about 70,000 t. of materials.
Furthermore, we have invested on renewable sources, and thanks to our solar power system, we produce 160,000 kWh of clean energy every year.
Our constant attention to the environment and to its safeguard is expressed also through the actions on the territory and the active involvement in educational outreach programs for raising awareness on recycling.
HISTORY
OUR ROOTS
Our company's roots run deep: everything started 60 years ago, when recovery, disposal, collection, selection and recycling of waste were not systematic operations both on a private and public level.
Driven by the shared desire to build a cleaner future, we have believed in the importance of these services and have united around this vision our two families, Bandini and Casamenti.
Since then for four generations we have been working side to side with businesses to optimize waste management, taking care of collection, processing and selection of paper and plastic products, of ferrous and metallic waste, aluminum, wood and glass scraps.
Among industrial, artisanal, commercial realities, large-scale distribution, public administration, banking institutions, religious and non-profit organizations, we cater to 600 customers thanks to our competent team and efficient fleet vehicles.
Our company has an office in Forlì, on a property area of 20,000 m2, and a local unit in Mordano (Bologna), in a 4,500 m2 facility.
CERTIFICATIONS
OUR GUARANTEES
A recognition for us, a guarantee for our customers and stakeholders: the certifications we have obtained over the years speak to the quality of our operations, highlighting how our effort is tangible when it comes to developing increasingly sustainable processes. In the same spirit, we rely on a business management organization model under Regulation 231/01, with efficiency, responsibility and quality in mind.